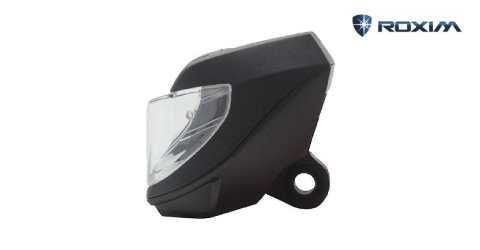 The innovative design features of the Raptor X series deliver unparalleled performance for both on- and off-road riders. The super compact series offers panoramic 200 degree light spread for constant clear sight and ultra-wide forward vision.
The power input of the X4E ranges from DC 6V to DC 90V to cover most types of e-bike batteries on the market. The X4E model delivers very bright output, up to 400 lumens/50 Lux, and complies with German regulations. Glare-free reflector prevents blinding from oncoming traffic, and improves traffic safety. With a streamlined and super-compact design, the Raptor X weighs just 72 grams which stands out from other systems on the market.
Roxim Technologies, Inc. is dedicated to developing innovative and revolutionary improvements for bike lighting systems based on human technology and the safety guidelines of German road cycling regulations.
Combining fashion with function, Roxim offers products for riders of mountain bikes, city bikes, and road bikes. Roxim aims to deliver a superior night riding experience - brilliant, safe, comfortable, and green.
Raptor X4E product link: www.taiwantrade.com/product/raptor-e-bike-lights-1160428.html
Catherine Hung (ychung@taitra.org.tw)
Source: Roxim Technologies, Inc.
l Taiwantrade news center: https://www.taiwantrade.com/mp/news-center
l Taiwantrade industry insights:
IOT https://www.taiwantrade.com/seo/introduction-to-internet-of-things.html
Smart Machine https://www.taiwantrade.com/seo/smart-machine-technology.html
Green Energy https://www.taiwantrade.com/seo/green%20energy%20information.html
Bicycle Accessories https://www.taiwantrade.com/seo/bicycle-articles.html
Automotive Lighting https://www.taiwantrade.com/seo/automotive-lighting.html
Driving Recorder https://www.taiwantrade.com/seo/car-driving-recorder.html