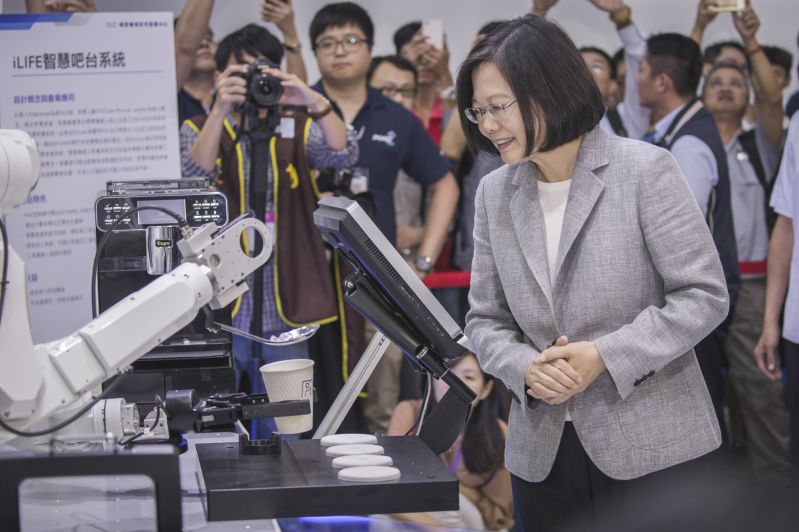 President Tsai Ing-wen said Aug. 29 that the government is making solid progress in transforming Taiwan into a global hub for smart machinery and intelligent manufacturing.
Local firms are receiving assistance from the government in the form of expert advice and subsidies in upgrading their manufacturing models, Tsai said. This will enable them to make the transition from manual labor to smart production in line with Industry 4.0, she added.
Industry 4.0, also known as the fourth industrial revolution, refers to the development of digitally connected manufacturing that combines artificial intelligence, big data management, smart automation and the Internet of Things.
Tsai, who made the remarks while opening the Taiwan Automation Intelligence and Robot Show at Taipei Nangang Exhibition Center, said the local machinery industry plays a central role in the country's economic development, with production value exceeding US$32.57 billion last year.
A total of 152 companies and institutions from home and abroad took part in the four-day event organized by Taipei City-based nongovernmental organization Taiwan Automation Intelligence and Robotics Association and supported by the ministries of Economic Affairs, Education, and Science and Technology.
Source: Taiwan Today
Nina Lin (ninalin@taitra.org.tw)
l Taiwantrade news center: https://www.taiwantrade.com/mp/news-center
l Taiwantrade industry insights:
IOT https://www.taiwantrade.com/seo/introduction-to-internet-of-things.html
Smart Machine https://www.taiwantrade.com/seo/smart-machine-technology.html
Green Energy https://www.taiwantrade.com/seo/green%20energy%20information.html
Bicycle Accessories https://www.taiwantrade.com/seo/bicycle-articles.html
Automotive Lighting https://www.taiwantrade.com/seo/automotive-lighting.html
Driving Recorder https://www.taiwantrade.com/seo/car-driving-recorder.html