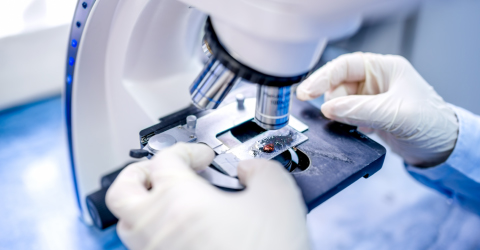 This year's Taiwan Healthcare Industry Trade Meeting, held in the Philippines on Aug. 6, 2018, enabled Taiwanese industry professionals to share their experience and research in healthcare and medical services with Philippine's entrepreneurs and medical experts.
In addition to discussing technologies related to cancer treatment and genetic testing, during the occasion, examinations were carried out by Taiwanese doctors and experts specializing in specifics such as ophthalmology, urology, hair restoration, cardiovascular medicine, and otolaryngology and precision medicine.
The meet was aimed at empowering the message of "Enjoying a healthier life with Taiwan medical services" and highlighting the technical knowhow of such a community of practitioners, as well as the business opportunities that go with being in the midst of world-class medical experts.
Participants included doctors from six prestigious hospitals in Taiwan, namely, MacKay Memorial Hospital, Kaohsiung Medical University Chung-Ho Memorial Hospital, Lee Women's Hospital, Royal 101 International Health Co., Ltd., Taiwan Nobel Eye and Aesthetic Medical Group and the National Taiwan University Hospital.
There were also four health companies that presented their latest products and services: Biotegy Corporation Ltd., Lite-Med Inc., ACT Genomics Co. Ltd. and Healthcare Industry Development Association.
As of last year, 14 Taiwanese hospitals and clinics had been accredited by global reviewers based on the world's most reliable set of hospital assessment criteria. Taiwan's medical services boasts special areas of specialization that garnered international recognition.
TAITRA, through a specially made exchange program with other ASEAN members, is spearheading a trade mission to the Philippines to establish cooperation that first and foremost aims to address issues on bilateral pharmaceutical certifications and the development of a new drug and medical equipment. Part of the plan is to assist patients from Southeast Asia targeting Taiwan for medical treatment.
Recent data revealed that a quarter of over 300,000 overseas patients going to Taiwan for treatment came from Southeast Asia.
Blake Lin (blakelin@taitra.org.tw)
Source: Manila Times
l Taiwantrade news center: https://www.taiwantrade.com/mp/news-center
l Taiwantrade industry insights:
IOT https://www.taiwantrade.com/seo/introduction-to-internet-of-things.html
Smart Machine https://www.taiwantrade.com/seo/smart-machine-technology.html
Green Energy https://www.taiwantrade.com/seo/green%20energy%20information.html
Bicycle Accessories https://www.taiwantrade.com/seo/bicycle-articles.html
Automotive Lighting https://www.taiwantrade.com/seo/automotive-lighting.html
Driving Recorder https://www.taiwantrade.com/seo/car-driving-recorder.html