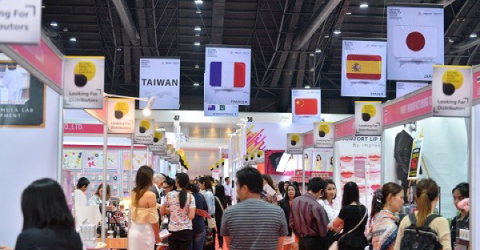 Beyond Beauty ASEAN Bangkok (BBAB) is just around the corner and Taiwantrade.com, Taiwan's foremost B2B2C portal, will be joining the show to exhibit a collection of the top notch beauty care products and tools from Taiwanese beauty industry manufacturers.
The Taiwantrade.com exhibit at BBAB will be held at booth D06, Hall 8 of the IMPACT Exhibition Center in Bangkok from Sept. 20 to 22, 2018.
Mei Kwang Cosmetics, a leading beauty care product manufacturer from Taiwan, will be one of the 19 suppliers featured at the Taiwantrade.com exhibit. Established in 1975, the Taiwan-based company develops products from its own laboratory and operates 15 brands internationally.
Macrohi, the organic hair care specialist, will also be joining the exhibit. The Taiwantrade.com exhibit will feature other excellent companies just like Macrohi and Mei Kwang, so don't miss out on this chance to discover great suppliers for your business!
In addition to showcasing beauty products, Taiwantrade.com will be introducing its free services for buyers to meet new suppliers online and in person, request for quotations, and place purchasing offers to attract new suppliers.
Prior to the show, Taiwantrade.com launched the online Beyond Beauty ASEAN Bangkok 2018 showcase (https://goo.gl/fEQUPF) featuring 62 companies and over 680 products, including skincare, cosmetics, makeup tools and accessories, as well various kinds of beauty supplies. Buyers can also order samples directly from the suppliers on Taiwantrade.com iDealEZ at beauty.idealez.com.
With more than 70,000 quality supplier members and a database of over 660,000 product catalogs, Taiwantrade.com is a one-stop sourcing platform that offers customized sourcing services for buyers to connect with Taiwanese suppliers and industries.
Taiwantrade.com is organized by the Taiwan government and operated by the Taiwan External Trade Development Council (TAITRA). Founded in 1970, TAITRA is headquartered in Taipei and operates 61 global offices.
For more about Taiwantrade.com's buyer services, visit www.taiwantrade.com.
Press Contact
Name: Elina H. L. Lee
Email: elina@taitra.org.tw
l Taiwantrade news center: https://www.taiwantrade.com/mp/news-center
l Taiwantrade industry insights:
IOT https://www.taiwantrade.com/seo/introduction-to-internet-of-things.html
Smart Machine https://www.taiwantrade.com/seo/smart-machine-technology.html
Green Energy https://www.taiwantrade.com/seo/green%20energy%20information.html
Bicycle Accessories https://www.taiwantrade.com/seo/bicycle-articles.html
Automotive Lighting https://www.taiwantrade.com/seo/automotive-lighting.html
Driving Recorder https://www.taiwantrade.com/seo/car-driving-recorder.html