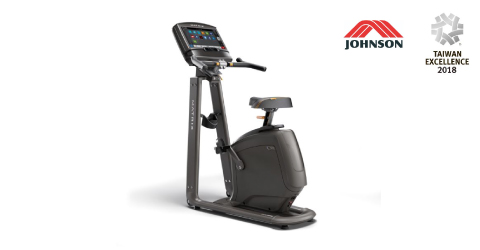 With the Matrix U50, fitness expert Johnson Health Tech wants to offer users the finest ergonomic designs for upright exercise bikes.
According to Johnson Health Tech, the U50's "Dual Form Frame" provides superior stability and easy step-through access. The "Comfort Arc Seat" maximizes comfort and support, while the "Exact Force Induction Brake" on the U50 offers smooth, precise resistance changes.
The handlebars and console position on the U50 can be adjusted to fit all body types for optimal comfort. The easy-lift lever enables the user to make quick seat adjustments to the ideal position. The handlebars, seat and pedals can also be easily replaced with the user's own custom components.
The handgrip resistance controls make it easy to adjust the level of challenge without interrupting the workout. There are 30 electronic resistance settings to choose from.
Since 1975, Johnson Health Tech (JHT) has been specialized in the design, production and marketing of award-winning fitness equipment. Based in Taiwan, JHT is Asia's largest, the world's third largest and one of the industry's fastest growing fitness equipment manufacturers.
JHT is active in 60 countries and the company's brands are marketed to the commercial, specialty and home-use markets.
Matrix U50 on Taiwan Excellence: https://www.taiwanexcellence.org/en/award/product/38916
Catherine Hung (ychung@taitra.org.tw)
Source: Johnson Health Tech. Co., Ltd.