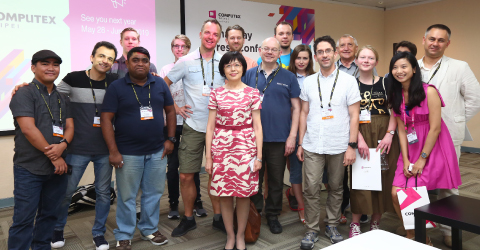 COMPUTEX Taipei, Asia's largest computer show, saw an increase in traffic this year on the last day of the five-day event that ended on June 9, 2018.
The five-day computer trade show drew 42,284 buyers from 168 countries, 1 percent more than last year's show. Of the 168 countries and regions represented by buyers at the show, the strongest presences were from the United States, Japan, China, Hong Kong, South Korea, Thailand, Malaysia, Germany, India, and the Philippines.
The 34th COMPUTEX also attracted some 17,687 visitors to this year's InnoVEX, an 18 percent increase from the 2017 event. InnoVEX, with the participation of 388 exhibitors from 21 countries, is a featured exhibit that took place throughout the five-day run and focused on innovative new businesses and their gadgets, and smart IoT solutions.
A total of 1,602 exhibitors from 30 countries showcased 5,015 booths at this year's event, said TAITRA Executive Vice President Leonor Lin.
COMPUTEX Taipei has always been an important platform for both domestic and foreign players to showcase their latest technologies, and is also an ideal venue for businesses to stay connected to the latest industry trends as well as new technology developments, Lin added.
This year's COMPUTEX Taipei was held at the Taipei World Trade Center Nangang Exhibition Hall, Taipei World Trade Center Hall 3, and the Taipei International Convention Center, and ran from June 5-9.
Blake Lin (blakelin@taitra.org.tw)
Source: Taiwan News