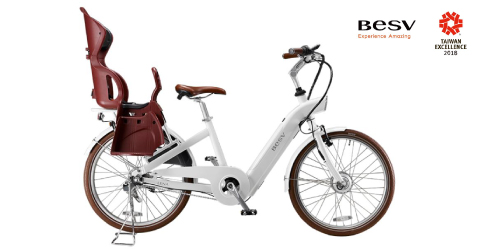 BESV's CF1 LENA, specially designed for Japan's "Mamachari" market, is the most popular bicycle type for moms carrying children around. It weighs only 21.5kg, lighter than most competitors and easier to lift or move even for female users. The battery is cleverly hidden inside the tube frame for a more elegant look, while still removable for convenient charging.
The integrated 40lux headlamp and the rear brake lamp provide high brightness for better safety. The large LCD screen allows riders to easily read important information such as battery status and speed.
The CF1 LENA features Algorhtythm, BESV's custom-built power drive system delivering reliable 3-level electrical assistance with precise power and smooth transition for the best riding experience.
Last but not least, its stem and handlebar are easy to adjust with various angles to meet different users' preferences. The CF1 LENA is smartly designed and made by Darfon Innovation Corp. to bring the most complete assistance to the whole family.
Darfon Innovation Corp. is a subsidiary of Darfon Electronics Corp, a listed company in Taiwan and one of the world's leading notebook keyboard manufacturer. Leveraging on cross-industry innovation, Darfon Innovation Corp. has more than 15 years of experience and core competence in designing and producing stylish and highly integrated e-bikes.
Exceeding the limits of the traditional frameworks of bike industry, Darfon has been trying to make innovative and highly integrated e-bikes and to become the leader of green fashion. Darfon Innovation's e-bikes are not just eco-friendly, but can allow users to live healthier lives and show fashion styles.
Darfon's stylish Lion LX1 and Panther PS 1 have received global design awards in these 2 years. Panther PS1 wins Taipei Cycle d&i gold award 2014 and Lion LX1 wins 2014 CHINA CYCLE CREATIVE AWARD.
CF1 LENA 2018 Taiwan Excellence page: https://www.taiwanexcellence.org/en/award/product/39359
Source: Darfon Innovation Co.
Catherine Hung (ychung@taitra.org.tw)