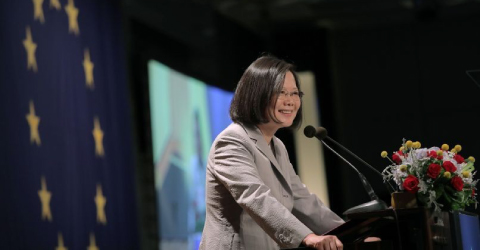 President Tsai Ing-wen said May 17 that Taiwan is committed to boosting robust economic ties with the EU by fostering collaboration in emerging sectors like green energy and smart machinery, as well as strengthening the nation's investment environment.
Two-way trade rose 9 percent year on year to a record US$53.2 billion in 2017, while the EU is Taiwan's largest source of foreign direct investment (FDI), Tsai said. The government aims to build on this momentum by promoting the involvement of European businesses in industrial transformation projects and achieving tangible progress in the years ahead on a bilateral investment agreement, she added.
Tsai made the remarks at the 2018 Europe Day Dinner organized by the European Chamber of Commerce Taiwan in Taipei City.
According to the president, the government's five-plus-two innovative industries initiative and Forward-looking Infrastructure Development Program (FIDP) provide ample opportunities for deepening technological cooperation with EU enterprises in such areas as artificial intelligence, Internet of Things and renewables.
Five-plus-two seeks to foster the biotech and pharmaceuticals, green energy, national defense, smart machinery and IoT sectors, as well as the circular economy and a new paradigm for agricultural development. The US$14.4 billion FIDP, running through August 2021, aims to meet Taiwan's infrastructure needs for the next 30 years.
European firms can play an important role in advancing these national development programs, Tsai said, noting that the country's offshore wind farm program is drawing strong interest from many world-leading EU companies.
To boost FDI and modernize the nation's regulatory environment, the government has enacted a host of reforms such as changes to the tax code reducing operating costs for businesses and the easing of visa and residency requirements for foreign professionals, the president said. Further policies in the pipeline include the relaxation of investment restrictions.
According to Tsai, as Taiwan enacts these reforms, it will continue to work with the EU to achieve progress on a BIA. Such an agreement would deliver substantial mutual benefits while demonstrating both sides' commitment to free trade, she said.
Noting that this year marks the 30th anniversary of the ECCT as well as the 15th anniversary of the European Economic and Trade Office in Taiwan, the president expressed gratitude to the organizations for their dedicated efforts to advancing ties.
Strong relations are evidenced by the large number of European officials and parliamentarians that visit each year as well as the first-ever Taiwan-EU Human Rights Consultation held March 22 in Taipei, Tsai said.
As like-minded partners united by their shared belief in democracy and rule of law, Taiwan and the EU can work together to make a positive difference throughout the region, she added.
Blake Lin (blakelin@taitra.org.tw)
Source: Taiwan News
Photo Credit: Office of the President/Taiwan Today