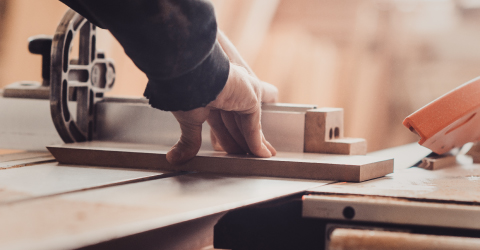 Organized by the Taiwan External Trade Development Council (TAITRA) and Taiwan Woodworking Machinery Association (TWMA), Wood Taiwan 2018 was held at the Taipei Nangang Exhibition Center, Hall 1 from April 2-5, 2018.
As the biggest woodworking show in Taiwan, Wood Taiwan 2018 featured the latest woodworking machinery innovations and technologies. The 2018 show was the largest ever with 167 exhibitors across 1,076 booth spaces, including elite makers and world-renowned brands from Taiwan, Germany, Italy, France, Switzerland, the United States, Japan and China.
With a full alignment of woodworking machinery and innovative solutions, the show featured high-speed automation, integrated processing, intelligent manufacturing and specialized woodworking machines. There was also a full range of woodworking machines, automation technologies and innovative solutions for ease of operation, cutting stability and easy assembly.
The visitors saw Taiwanese manufacturers incorporate ICT and automation technologies to produce automated and intelligent woodworking machines, such as CNC machining centers, automated boring machines, routers and tenoners, and automatic finger jointing lines. These intelligent machines provide total solutions to reduce costs and boost productivity.
In addition to abundant exhibits, the organizers held one-on-one procurement meetings, an industry summit, forums, seminars and DIY workshops to give the visitors even more ways to explore business and interact with one another.
According to the database from International Trade Centre (ITC), the export value of Taiwan woodworking machinery amounted to US$0.52 billion in 2016, making the country the 4th largest exporter in the world.
www.woodtaiwan.com
Sources: Fordaq
Yihan Lin (yihanlin@taitra.org.tw)