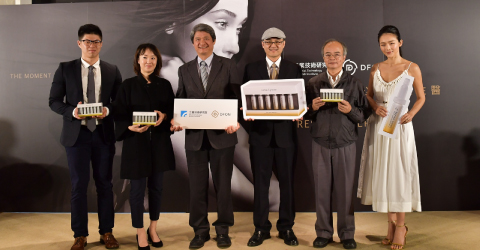 DFON Biomedical Technology Inc., ITRI's first beauty care products startup, has officially marked its inauguration and unveiled a new generation of products, demonstrating how innovative technology can be applied in the development of cosmetics and skin care products.
DFON was founded on the basis of technology transferred from ITRI, with the key ingredient MMpH+ originally used in encapsulating cancer drugs.
When researchers tested MMpH+ on the skin, they discovered its benefits in protecting the skin's collagen and serving as a moisturizer, thereby preventing wrinkles. The company thus launched the fourth generation anti-aging formula Enzyme Secret AP-I, which provides comprehensive skin protection and regeneration from the effects of aging, environmental factors, and sun damage.
With its R&D expertise, DFON was selected to enter the Paris&Co business acceleration program. During trial operation, it sold over 1,000 units of its products.
Even Jeanine (Chin Hsi), a Paris-based supermodel, is a fan of its Anti-Aging Serum. She tested her skin with an ultrasonic machine before using the product and saw considerable changes after two to three weeks of daily application. The serum helped retain collagen, making her skin became full of luster. This September DFON's products are expected to hit the shelves of France's pharmacy channel.
Source: CTIMES
Lillian Lee (lillianlee@taitra.org.tw)