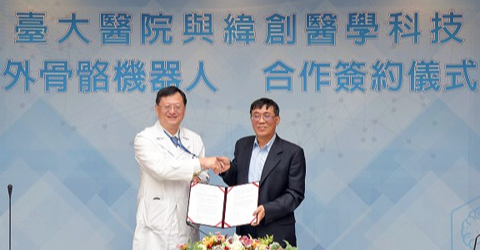 Wistron Medical Tech, a subsidiary of the Wistron Group, has signed a cooperation contract with the National Taiwan University Hospital (NTUH) to provide exoskeleton robots for clinical tests at the hospital.
The firm's president Donald Hwang, who doubles as Wistron's chief technology officer, and NTUH's vice superintendent Yu Chong-jen inked the pact on March 7 on behalf of the respective sides.
Besides NTUH, Wistron has also partnered with Cathay General Hospital for clinical trials of its smart powered exoskeleton robots, and expects to get official accreditations from the Taiwan hospital by 2020 at the latest.
According to Hwang, his company is planning to export two to three hundred units to overseas markets in 2018, and is expecting further growth in shipments in 2019. Among the company's first overseas markets will be Japan, India, and Canada, where regulations are more open to medical robots, said Hwang.
In June 2017, Wistron Medical Tech officially partnered with Canada-based Bionik Laboratories to design, engineer and manufacture low-price, lower-body assistive robotic products for mass commercial sales in the consumer home products market.
The company is also in cooperation with Free Bionics, a startup associated with the Taiwan government-funded Industrial Technology Research Institute (ITRI), to develop assistive exoskeleton robots for wheelchair users. Free Bionics will soon venture its products into the Japan market, based on a contract signed in 2017 with USCI Japan, a major supplier of medical devices.
Source: DIGITIMES; money.udn.com
Photo Credit: CTTIMES
Iris Yu (iris.yu@taitra.org.tw)