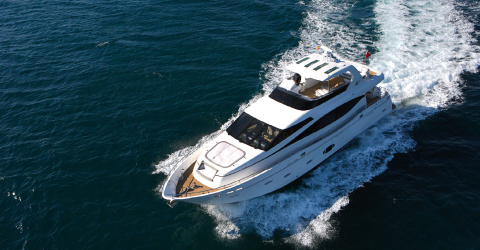 The Taiwan International Boat Show (TIBS 2018) will be soon be showcasing the latest offers from Taiwan's leisure marine industry at the Kaohsiung Exhibition Center and Horizon City Marina in Kaohsiung from March 15 to 18.
As of October 2017, among the 120 exhibitors that have signed up, 10 Taiwan yacht makers and 10 yacht agents representing European and USA renowned brands will present nearly 35 yachts indoors, outdoors, and on the water. Some of the highlights include the latest works of globally proven luxury yacht names from Taiwan such as Ocean Alexander, Johnson Yachts, and Kha Shing.
The show will have seven exhibition areas: Yachts and Boats, Equipment & Accessories, Water Sports and Recreation, Maritime Service, Luxury Corner, International Pavilion and Marina Display.
Besides the seven exhibition areas, there will be a brand new Outdoor Lifestyle Zone to display diving supplies, camping supplies, camper vans, fishing tackle and outdoor activity equipment. The addition of the new zone will help build the show into an all-round outdoor life space.
Blake Lin (blakelin@taitra.org.tw)
Source: Taiwan News