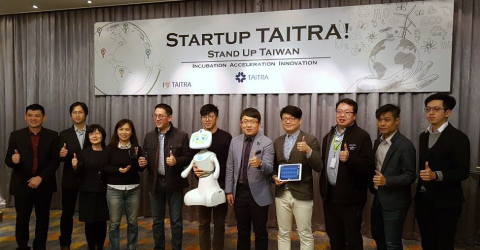 In a show of Taiwan's burgeoning startup scene, TAITRA Vice Chairman Liu Shih-Chung led a group of 13 Taiwanese startup companies to attend and demonstrate their innovations at the Four Years from Now (4YFN) exhibit of the 2018 Mobile World Congress (MWC).
Held from Feb. 26 to 28, 2018, 4YFN is a startup business platform of the world's largest mobile industry annual gathering, MWC. 4YFN enables startups, investors, corporations, and public institutions to discover, create, and launch new ventures together. An estimated 19,100 attendees, 600 startups, and 700 investors attended this year's 4YFN.
The Taiwanese startups also gave presentations during the "Taiwan Startup Demo Day" event, held by TAITRA, to show off their cutting edge solutions in the fields of smart home, cyber security, smart medical, chatbot, smart audio video and more.
Full list of the startups:
Robelf – Your Moving Monitor Guardian.
SpotCam – Smart Cloud Camera System for Everyone.
Smart Mike – Best partners with Selfies & YouTubers.
UGYM Sport – Portable Deep Tissue Sport Massager.
ArcRan iSecMaster – A powerful security platform for protecting your digital branches, mPOS systems and self-service stores.
BotPartner – You can control your home, including lights, temperature, appliances via Messenger by our chatbot, Louis Lin.
OysterX – Track and share your journey with a fun and easy app.
Renaisscent – A Customizable Smart Diffuser let you control your space's ambiance right from your phone.
Weeview – The Next Revolution In 3D AR Storytelling.
Vitalsigns – Construct Health Care Service At Home.
PacketX – Mobile Edge Computing(MEC) platform with the built-in security framework for IoT.
iXensor – A seamless in-vitro diagnostic test provider.
Blake Lin (blakelin@taitra.org.tw)