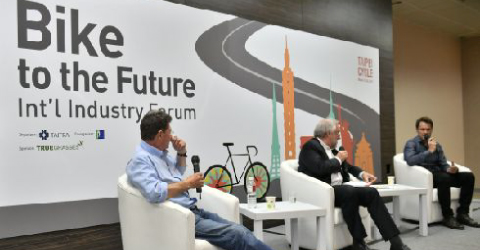 With a new show date set for Oct. 31 to Nov. 3, the 2018 Taipei International Cycle Show (Taipei Cycle) will open to the theme of 'Smart Cycling' and introduce the visitors to Taiwan's latest technology innovations in the world of cycling.
This year's Taipei Cycle will bring together professionals from different industries to share their innovations for a technologically advanced future in bicycles.
IoT and bicycles
The 2018 show will feature two main theme areas: the IoT Zone and the New Enterprise Zone, with exhibits highlighting smart transportation applications, mobile wearables, and systems services and integration.
Taipei Cycle Forum
In addition to the larger scale of this year's event and Demo Day, the show will facilitate communications between international manufacturers and retailers. From March 23 to 24, 2018, the show will hold its first-ever International Industry and Electric Bicycle Experience Forum in Taichung's Lihpao Land. Renowned companies including Decathlon and Intel have been invited to talk on the future of the industry in such topics as new forms for retailing, new manufacturing and new technology, and electric bicycles.
The 2018 Taipei Cycle will be held from Oct. 31 to Nov. 3. The show will take place at the Taipei Nangang Exhibition Center, Hall 1 and Taipei World Trade Center, Hall 3.
Source: Bike Europe
Blake Lin (blakelin@taitra.org.tw)