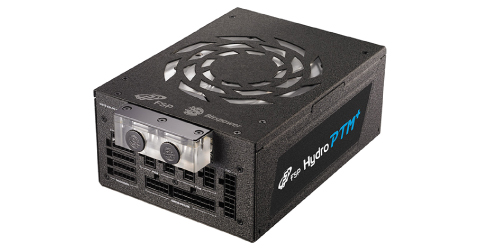 Power supplies maker FSP recently announced its newest offer, the Hydro PTM+. The 1200W unit was developed in cooperation with Bitspower as a unique liquid cooled power supply that excels at its efficiency, power rating, and thermal performance.
With liquid cooling enabled, up to 1400W of power can be delivered, but when power demand is below 50% loading the Hydro PTM+ remains passively cooled, remaining completely silent.
On top of the fantastic power delivery and unique cooling solution, the Hydro PTM+ fits any gamers' needs by also offering good looks.
With ASUS Aura sync certified RGB lighting inside the unit and fully modular design with ribbon cables, the Hydro PTM+ is the first PSU that truly combines power, cooling, and aesthetics.
As a unique opportunity for liquid cooling and modding enthusiasts, FSP and Bitspower have prepared 500 limited edition units with amazing extras.
The first 500 units will get high-quality FSP sleeved cables as well as a Bitspower AiO kit, including pump, radiator, and 120 mm LED Fan.
The regular Hydro PTM+ and limited edition does not include coolant for those that want to integrate this solution into their custom systems.
Hazel Lee (hazellee@taitra.org.tw)
Source: FSP TECHNOLOGY INC.