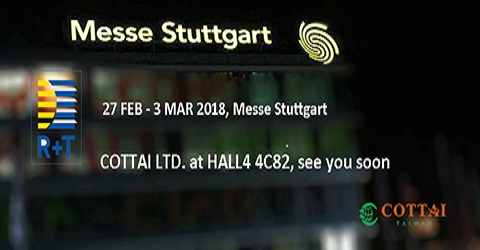 COTTAI Ltd. is a window covering expert based in the sunny city of Tainan in Southern Taiwan. The company specializes in window covering systems, components and equipment, and supplies them to customers worldwide.
Founded in 2009, COTTAI serves the global market by offering a wide range of high quality blinds and blind components. The company's prodct lines include curtains, rollers, roman, vertical, venetian, and panel blinds.
More options for customers to choose from.
COTTAI's latest product for 2018 is a double-painted aluminum slat for venetian blind systems. The product is available in 25mm and 50mm variations. The company will be showcasing its latest innovations and more at R+T 2018 Stuttgart in Germany from Feb. 27 to Mar. 3.
As a company, COTTAI is committed to honoring its products, services and customers with unique products and services. COTTAI designs and offers products that are compliant with global safety standards certified by BV and SGS.
COTTAI's R+T 2018 Stuttgart booth will be located at 4C82 in Hall 4, Messe Stuttgart.
COTTAI home: http://www.cottai.com.tw/en/about.php
COTTAI on Taiwantrade: https://cottai.en.taiwantrade.com/
Source: COTTAI Ltd.
Kai Chiu (kai@taitra.org.tw)